West of Ireland Trip: Letterfrack and the Connemara National Park
Once we were on the bus to Letterfrack the hot tempers cooled. This however was not helped by our hostel, the Letterfrack Lodge (http://www.letterfracklodge.com/) calling and letting us know that due to a double booking they had to move us to another hostel in the village, the Bard's Den. We were pretty annoyed and it would stop me recommending it, not that its day-glow website had been confidence inspiring in the first place, to any of you but on the bright side it does allow me to tell you about the surprisingly pleasant Bard's Den. (http://www.bardsden.com/)
In Letterfrack there are three pubs; Veldon's with its shop attached is the best for food, Molly Molloy's which is a little touristy and the Bard's Den which has a hostel in its old outhouses. The rooms are clean, the kitchen is pretty small it's well stocked and the rates are very reasonable. Even in high season you wouldn't pay more than €17.50 for small dorm rooms and family rooms are on average around €50.
On our pub crawl of all three pubs we ended back in the quiet snug of the Bard's Den which a digital jukebox full of surprisingly good classic rock, a big open fire and comfy armchairs where we danced and rested until closing time when we were but a few steps from our hostel room.
The next day we were a twenty minute walk from the Connemara National Park which any lover of the outdoors, or even a casual admirer, should visit. There are plenty of trails to follow whether you're an experienced hiker or more of a casual stroller from a forest nature path to the popular bog boardwalk. From the boardwalk, which cuts across the ridges for beautiful scenic views, you can get up onto Diamond Hill the lowest of the Twelve Bens.
This walk can take two and half hours from cafe and back again but it's fairly easy for anyone who's relatively fit. There's a clear path the whole way that only gets steep for the last half hour though there are a few bits of the final ascent where you have to scramble with your hands There are a few long, thin ridges that form false summits before you finally reach the top. It's best to do this walk in clear weather as when the cloud is low the visibility is so bad that the long path could be dangerous. Even beyond that the view from the top is so spectacular and panoramic that it would a shame to come all that way to stare into fog.
Luckily for us it was a rare Galway scorcher and the sky was clear. From the peak we could see for miles as we settled down by the artificial cairn to have our picnic lunches. . L, T and I were all frequent hikers but A was less used to hill-walking so she found it a little challenging but still finished the walk. The descent was easier, as going downhill often is, even though the start is so full of steep steps cut into the side of the mountain that there are times you could easily get vertigo and slip if you don't remain cautious.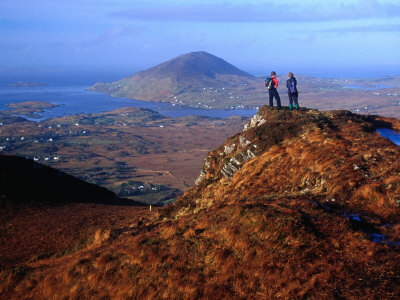 We did not get to go to Kylemore Abbey on this particular trip, but anyone staying in Letterfrack should not miss the beauty of this lakeside mansion. There's a nice cafe, an unusual Victorian walled-garden and lots of other things to see in the grounds around the Abbey itself as well as guided tours of the former elite boarding school. The forests have lots of marked trails for a wander and a path that leads up the steep (and this time I seriously mean nearly vertical) slope behind to an old shrine if you're feeling adventurous (and very energetic). 
(Source: offwithorla.blogspot.com)
orlajonotdead posted this